Welcome to Navan Road Dental Practice
We are a long established family practice, located in the Aras Slainte, Primary Care Centre on the Navan Road in Dublin 7. We will be delighted to work with you and help you achieve a healthy, beautiful smile.
We have extensive experience dealing with the individual needs of each patient and value the relationships formed over the years.
We welcome new patients and we encourage all our patients to talk to their dentist or hygienist about any concerns or requirements they may have.
We continue to invest in state of the art innovation and technology.
Our team of Dentists, Specialists, Hygienists and nurses are committed to providing dentistry of the highest standard.
The practice is open from 8:30am to 1:00pm and 2:00pm to 5:00pm Monday to Friday.
Please take a moment to view our treatments page.
Colgate Max White One Professional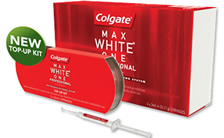 Colgate Max White One Professional is a take home, tray-based, whitening system.
It is specially formulated to remove tooth discolouration due to foods, tobacco and other stain-causing materials.
Your dentist or oral hygienist takes an impression of your teeth and makes up a cast. Then whitening trays are made for you to whiten your teeth at home at a time that is convenient to you.