Meet Our Team
At Navan Road Dental Practice our team of Dentists, Specialists, Hygienists and nurses are committed to providing dentistry of the highest standard.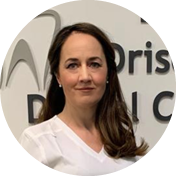 Dr Irene Lavin

B.A., B.Dent.Sc. Dip. Clin. Dent (U. Dublin)
Irene qualified as a Dentist from Trinity College Dublin in 1991.
She has worked in private practice in Northern Ireland and London and has experience working in the community dental service.
In 1997, Irene commenced practice on the Navan Road. She completed a postgraduate diploma in Clinical Dentistry at the Dublin Dental University Hospital. Irene is a member of the Irish faculty of primary dental care and has served on council of the Irish Dental Association.
In treating her patients, Irene prioritises creating a positive dental experience in a calm and professional environment.
Dental Council Registration 9/93
IDA Member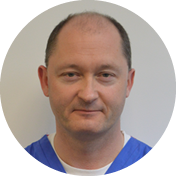 Dr Ciaran O'Driscoll

B.A., B.Dent.Sc. (U. Dubl.), M.Sc. (U. Lond.)
Ciaran qualified as a Dental Surgeon from Trinity College Dublin in 1991. He worked in General Practice for six years and then moved to London where he undertook a postgraduate masters Programme in Endodontics at the Eastman Dental Institute (UCL)
Ciaran runs a practice Limited to Endodontics at the Navan Road Dental Practice and is also a part-time clinical lecturer at the Dublin Dental University Hospital.
He is a former president of the Irish Endodontic Society and is a member of the Irish Dental Association. Ciaran has lectured widely on topics related to all aspects of Endodontics.
Dental Council Registration 95/91
IDA Member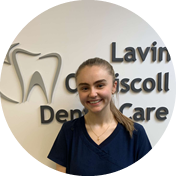 Dr Niamh O Sullivan

Niamh Graduated with an honours degree in Dental Surgery from University College Cork in June 2020. Niamh is trained in all aspects of general dentistry and aims to make every experience in the dental chair an enjoyable one for all ages. She particularly enjoys treating nervous and anxious patients and she prides herself on her friendly and approachable chair side manner. She enjoys taking the time to answer all questions and provide information that will educate patients in order to help them achieve a high standard of oral health.
In her free time, Niamh enjoys running and cooking for her friends and family. She looks forward to meeting you at the Navan Road Dental Practice.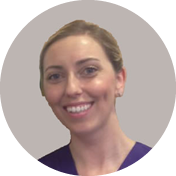 Aine Watchorne

R.D.H
After several years of living abroad, Aine returned to Ireland in 2009 and began her career in the dental industry.
She graduated, with distinction, with a diploma in dental nursing from Trinity College Dublin in 2010. The following year she received a certificate in Oral health promotion from NUI Galway.
She returned to full time education to study the Diploma in dental hygiene in 2012.
A bursary award was given to Aine and with this she participated in a two-week exchange programme with the dental university in Malmo, Sweden.
After graduating from the dental hygiene diploma, she joined our team at the Navan Road Dental Practice in 2014.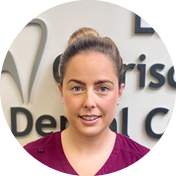 Carol McGovern

Hygienist
Carol is our dedicated and dynamic Dental Hygienist with extensive experience providing expert dental hygiene treatment. Graduated from Dublin Dental Hospital where she was awarded the DENTSPLY prize for Clinical excellence. Exceptional patient skills focused on oral hygiene treatment as well as preventative management.
Empathetic, professional, capable of reassuring and alleviating patient fears. Experience working with children in Our Lady's Hospital Crumlin, St.James's Hospital with haematological disorders and Dublin Dental University Hospital with Head and Neck Cancer patients and Special Care patients.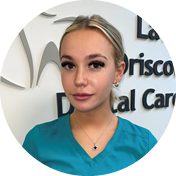 Emma Walsh

Dental Nurse
Emma joined the team in 2020 and is now studying for her diploma In Dental Nursing after an early career in retail where she learned the importance of providing great customer service. Emma will be a fully qualified dental nurse in 2022.
With special interests in Root Canal, General Dentistry and Oral Surgery, Emma finds the ability to help others to be the most rewarding part of her role. But when she is not busy caring for our patients, Emma's other passions include keeping fit, going to the gym, travelling and cooking!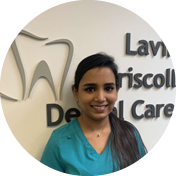 Pavithra Appandairajan

Dental Nurse
Pavithra is a fully qualified dentist in her home country, and is currently completing her exams here to become a dentist. Pavithra is with us since 2019 and is a very valued member of the team. Pavithra goes above and beyond to make sure each patient has a great dental experience and that each patient is comfortable every step of the way.
Outside of work, Pavithra loves to bake and often brings the team some delicious treats. She is a very family oriented person and loves keeping fit and healthy.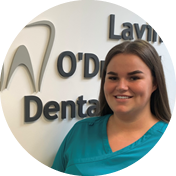 Taylor O'Brien

Dental Nurse
Taylor joined the practice in 2017 as a trainee dental nurse where she worked alongside all of our dentists for 3 years and also is working alongside our Endodontic specialist. Taylor recently took on the role of receptionist at the practice and she now spends her time alternating between her duties on reception as well as training in our new nurses and also in surgery assisting the dentists.
Taylor is a very valued member of the team here and is passionate about ensuring patients receive the very best care possible. Outside of work, Taylor enjoys going to the cinema and going on walks. She is also a keen traveller and enjoys exploring new places whenever she can.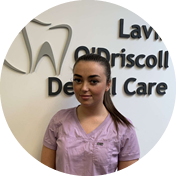 Ciara Salinger

Dental Nurse
Ciara joined the practice in 2022 as a trainee dental nurse. She is currently training with us and is hoping to start her diploma course for dental nursing this year. Prior to her interest in dental nursing Ciara completed a diploma in beauty.
Outside of work, Ciara loves to spend time with her friends and family, and continues to practice beauty whenever she can.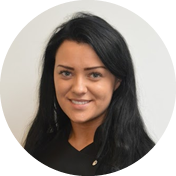 Nicole O'Brien

Receptionist
Nicole is the friendly face at the front desk. She is our insurance and billing expert, always ready to help with your questions or concerns. Nicole is dedicated to helping patients with every step of their dental visit from making patients feel comfortable, scheduling their appointments, to processing their insurance claims. She has worked with us here in Navan road dental practice since 2014!
Outside of work Nicole is a full time mammy and loves spending time with her family and friends!